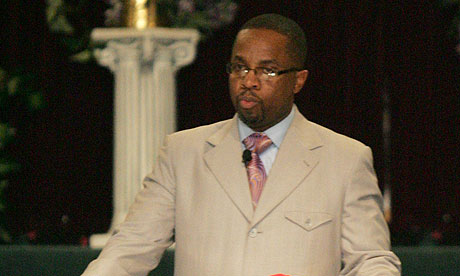 by Dr. Boyce Watkins, Syracuse University  - Scholarship in Action 
Apparently, the words "thou shall not use Facebook" don't quite trump the words "thou shall not have a three-way sexual relationship with your wife and a male assistant." The Rev. Cedric Miller became a national name last week after demanding that his entire New Jersey congregation delete their Facebook pages. The move was thought to be an incredibly bold statement about the impact that Facebook has on relationships, where old boyfriends/girlfriends never quite go away.
To the surprise of many, it turns out that Rev. Miller may have his own reasons for wanting Facebook out of his life. There are reports that the pastor had a three-way sexual relationship with his wife and a male assistant at the church. Rev. Miller, who heads the Living Word Christian Fellowship Church in Neptune Township, New Jersey, confirmed the information, which had been printed in a local newspaper.
The 48-year old pastor also demanded that all 50 of his married church officials delete their Facebook pages or quit their leadership posts. He told married members of his church to share their login information with their spouses. He said that he plans to leave Facebook this week himself.